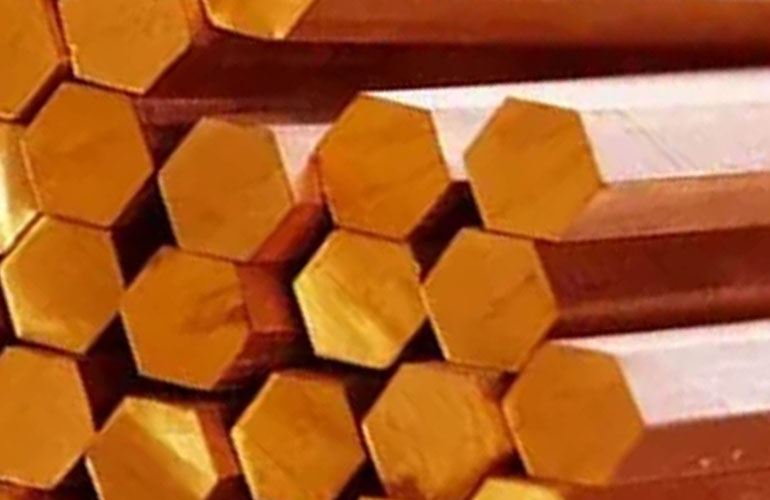 Copper Hex Bar Manufacturer, Supplier & Stockist in India - Kaliraj Impex
Kaliraj Impex is the one of the leading Copper Hex Bar Manufacturer and Supplier in India. We Manufacture and supply a comprehensive range of products, including Copper Hex Bar as the leading stockist of Copper Hex Bar. Kaliraj Impex should be contacted to check availability and pricing.
Kaliraj Impex is a privately held company that manufactures Copper Hex Bar to national and international standards. In India, you can get Copper Hex Bar for a low price. Our Copper Hex Bar comes in a number of diameters and can be cut and polished to meet your needs. Kaliraj Impex is a known company for manufacturing and supplying excellent quality products like Copper Hex Bars for a wide range of industrial applications include Chemical Industries, Oil & Gas Indutry, etc.
Copper Hex Bar Manufacturer, Copper Hex Bar Supplier, Copper Hex Bar Exporter, Copper Hex Bar Stockist in India
Kaliraj Impex is one of the largest Exporters of Copper Hex Bar of various kinds. Copper Hex Bar are used in a wide range of sectors and are manufactured with cutting-edge technology and top quality raw materials with cutting-edge qualities. Copper Hex Bar come in a variety of thicknesses, specifications, grades, and dimensions.
Copper Hex Bar are finished to meet the standards of the client in terms of dimensions and wall thickness, as well as heat treatment for more demanding applications. In general, Copper Hex Bars are made by international standards.
Copper Hex Bar Specifications
Specifications
ASTM B133, ASTM B124, ASTM B187, IS: 191, 613 & 1897
Dimension Details
4 mm to 75 mm in diameter, lengths up to 6 m
Standard
BS, IS, AMS, DIN & All International Standards
Size
0.375" ~ 3.000"
Conductivity
Above 97% IACS min in Half Hard
Above 99.95% in annealed
Purity
Copper - 99.9%
Specifications (OFC)
Copper: 99.99%, O
2: < 10 ppm
Copper: 99.90%, O
2: < 100 ppm
Type
Hex Bar, Hex Rod
Material
Copper
Grades
UNS C10200, C10300, C10800, C11400, C11600, C14200, C14420, C12000, or C12200.
Product dependability and performance have created Kaliraj Impex leading Copper Hex Bar Manufacturer in Mumbai, India. Every month, we provide and export various grades of Copper Hex Bar to Indian ports in various parts of India, which are then exported to various nations. Due to our commitment to providing high-quality Copper Hex Bar at affordable prices with simple services, we have sales representatives in most of India's major cities, including:
Our high-quality Copper Hex Bar, world-class customer service, and in-house Copper Hex Bar processing skills have set us as one of India's most promising and well-known Copper Hex Bar manufacturers and exporters. Our product, Copper Hex Bar are exported frequently to more than 12 countries. Over the last nine years, we tend to had equipped over 1800+ Copper Hex Bar clients worldwide. We also accept customizable Copper Hex Bar orders that are ready to ship as soon as possible.